It turned out to be true. I was really hoping the few things I had read were hyperbole, but they were pretty accurate. Pierce Brosnan's Bond films after Goldeneye are not very good, and they get progressively worse from Tomorrow Never Dies to Die Another Day. With the exception of a dark opening to Die Another Day, with Bond being tortured in a North Korean prison (let's ignore the fact that Bond looks impressively healthy and fit after 18 months in that camp), they basically drop any of the dark, intriguing elements of Goldeneye and return to the kitschy Moore formula. Brosnan's worst never gets as bad as the worst in Moore's tenure, but Die Another Day was incredibly boring and pretty stupid--even the combination of a Madonna cameo and Halle Barry's sexiness did not do much to redeem it for me.
I really wanted the films to be better than advertised since I came in wanting Brosnan to live up to the Bond I had created in my teenage head, and I was afraid bad films would make me dislike Brosnan as Bond. Luckily, even bad films couldn't spoil his perfect bond charm. In the end, even Brosnan at his worst is a far better Bond than Moore ever was. And I still think he pulls off what is written in the script better than Dalton. I have a feeling it's because he's the prettiest of all the Bonds, but Brosnan is probably my favorite going into the Daniel Craig era. With his sexy smile, shiny hair, perfectly cut suits, dapper accent and demeanor, he's pretty hard to resist and fits exactly what I imagine Bond to be in my head.
I don't have my notes on hand, and I find it hard to remember details from Bond films, so this post will be short. And I'll rely on the predictable: I miss the original Q (I'm not a fan of Monty Python, so John Cleese was not an exciting replacement); I appreciated that Bond's interactions with women were relatively realistic and believable -- they either established some sort of history with them -- be it a past relationship or simply a history of flirtation and "hooking up" -- or made it plausible that he would be interested in picking up the next hot woman that came along (i.e. having been deprived of humanity in a prison for months); and the sex scenes are finally starting to actually be sexy. Every time the films open and I see that they're only rated PG-13, I'm always upset thinking there won't be any steamy sex scenes. But then after watching the films, I'm not disappointed. Now that I think about it, I might be some kind of a prude, amazed by what can pass as PG-13 -- and if that was in the '90s, what are they passing through to the eyes of teenagers today. Then again, I really was a prude back in high school, so I guess it makes sense. I guess it's the fact that the action gets more attention than the sex in the end that prevents these from being rated R. But then again, it's pretty amazing how much more violent they've gotten since the '60s -- what would it take for a Bond film to be rated R, I wonder. Another thought: for all the beautiful fashion Bond girls got to wear in the '60s, the '90s were such a disappointment in that department. I mean, this shawl thing they have over Terri Hatcher's dress is quite hideous.
Finally, you might
like to know that I finally got my hands on a vintage metal cigarette case. Not as nice as Bond's but a pretty good substitute and a great deal on Etsy.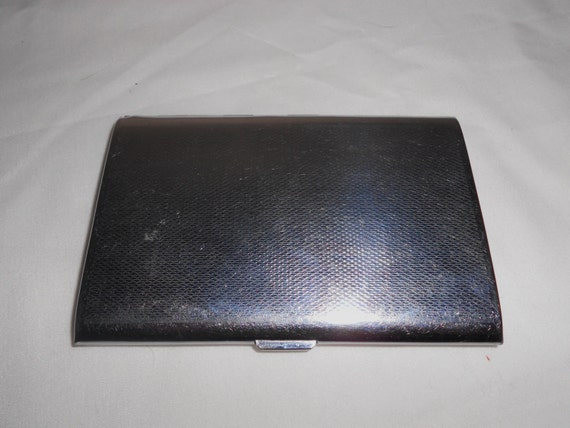 From the Etsy shop outofthepasvintage